Oneonta World War II Fallen Profiles
Over 421,000 Americans from large urban areas to small rural communities perished between 1941 and 1945 when the World was at war. Oneonta, New York is one of the many small communities spread across the United States that had its young people participate in this war and some of these individuals did not return alive. These are the fallen. This web site provides short profiles about the fallen from the Oneonta, NY area. 
Website and Research by James Greenberg, SUNY Distinguished Professional and Paul Baumann, Emeritus Professor SUNY Oneonta
With the onset of the Covid 19 Pandemic in March, 2020, our entire world was set into massive disruption in all matters – a disturbance probably since seen since the Pandemic in 1918. All institutions have been challenged in ways never experienced in our life times  – medicine, education, governance,  international relations, business, the media, to say nothing about personal and social relations.
The idea of recording the reactions of leaders of these institutions during this time was originally inspired by the comments of John Pontius, President of the Greater Oneonta Historical Society (GOHS) in its Newsletter. This project – Voices of the Pandemic – was launched about four months after the virus dramatically changed all our lives. The principals – Bob Brzozowski, Director of GOHS, Alan Donovan interviewer for Kitchen Table Conversations, and Gary Wickham, long time local radio personality and Instructor in the Communications Media Studies Department at SUNY Oneonta – have set out to get a sense of what dramatic changes have occurred. The interviews, conducted variously by the team above, are not extensive nor intended to be. They capture a moment in time of what those we talked with have faced in their various leadership roles. 
One interesting problem we faced is the constantly changing effects of the virus. As we all know, the virus has attacked in waves, posing the same threats but in different modes from March 2020 onward when we began our interviews. As it happened, these interviews were completed in June, 2021.
Interviews
Voices of the Pandemic
Harry Levine – Community Foundation of Otsego County
Barbara Ann Heegan – The Otsego County Chamber
Tamie Reid – Otsego County Office for the Aging
Tina Winstead – Huntington Library
Bob Brzozowski – Greater Oneonta Historical Society
Dave Rowley – Former superintendent – area schools
Jeanette Tolson – Counselor
Dr. Margaret Drugovich – Hartwick College
Gayane Torosyan – Associate Prof. - SUNY Oneonta
Dan Maskin – CEO - Opportunities for Otsego
Andrew Marietta – New York Council of Non Profits
Chris Kuhn – Oneonta Job Corp Academy
Ann Traitor – SUNY Oneonta History Department
Ben Friedell – Primary Care Doctor and Covid Victim
Dr. Cynthia Walton-Leavitt – Hunger Coalition
Gary Herzig – Mayor, City of Oneonta
Dennis Craig – Acting President – SUNY Oneonta
Oneonta Historical Society History
Oneonta Historical Society History
by Mark Simonson, Oneonta City Historian - First printed in The Oneonta Daily Star, March 2, 2009.
The Oneonta area became a bit more history conscious 70 years ago this past weekend. It was February 28, 1939 that the Upper Susquehanna Historical Society held its first meeting at the St. James parish house on Main St., Oneonta. We know it today as the Greater Oneonta Historical Society.
Postmaster Chester A. Miller was elected first president at a public meeting with 75 area residents on that Tuesday evening. The Society covered a fairly large region at the time, so representatives of the board came from nearby communities. Three vice-presidents were nominated at that meeting, including the Rev. Yale Lyon of Unadilla, the Hon. Alva Seybolt of Oneonta, and N.V.V. Franchot of Morris. Charles Beams of Oneonta was elected secretary, William C. McRorie of Milford was elected treasurer, and Miss Rosanna Bagg of Oneonta was the first curator. Nine trustees were selected to round out the board.
Mr. Seybolt reported for the committee named to draft the society's by-laws and constitution. "The object of this society," said Seybolt, "will be to gather and preserve the history of the area, including documents, papers, and articles of historical value and of historical interest."
The Society was an active group, holding regular meetings and hosting guest speakers at their first "home" in Huntington Memorial Library. By 1954, the area had become markedly more interested in local history, and crowded the little space they had at the library. By April, the Society's membership was quickly headed toward the 400 mark.
A plea began in a September letter to the editor of the Oneonta Star, by Dr. Edward Parish, then president. Specifically, Parish was lobbying for the use of the Wilber garage, behind the George I. Wilber Mansion on Ford Avenue. It was owned by the City of Oneonta at the time. The appeal went to the mayor and common council for approval. An August 1956 Oneonta Star article showed the issue was still being debated by city officials. The museum was finally opened in January 1963. That would become "home" for a few years.
The Historical Society was then moved inside the Wilber mansion, where they had an office for many years but held public meetings at various sites. The search always continued for a permanent home, yet it was never successful.
The number of members in the Historical Society decreased significantly in the 1980s and the meetings were quarterly instead of monthly. Rumors began that the Society had disbanded and the collections sold, but that was never the case. Documents and archives went into storage in several places.
The Society had hit their lowest point in the mid-1990s. Many communities affiliated with the Upper Susquehanna Historical Society were forming their own societies.
Norma Hutman changed the downward direction, as she became President in 1996 and directed the name to be changed to the Greater Oneonta Historical Society. Ms. Hutman recruited new trustees and officers and renewed the goal of finding a permanent home -- free of any ties to city government. Membership, which had fallen to 30 by 1998, began a steady rebound. A new logo, a train bursting into the foreground of a drawing was designed by Tony Mongillo.
Under subsequent Society presidents Grace Smith and Sally Mullen, and a task force to find a home, headed by Loraine Tyler, a candidate building was chosen and closed on in March 2001, 183 Main Street. This had been home to former businesses such as Galinn's Jeweler's, the Jo-Ann Dress Shop, and Laskaris' Restaurant.
The Greater Oneonta Historical Society's History Center underwent massive renovations on the exterior of the building and the street level floor between 2001-05. A grand opening ceremony was held in 2005. Over the next several years the Society will be proceeding with renovations on the second and third floors of 183 Main St., including a ballroom on the top floor.
Oneonta Firsts


Computers - the beginning of the IBM Corporation - Harlow Bundy
The beginnings of the Magnavox Corporation
Sherman Fairchild's first Aerial Camera, pilot cabins on aircraft and wing flaps
Pioneer in cable television with the first tower to transmit New York City programming to our area
Father of talking movies, tape recorders, and some television - Charles Edward Fritts. Patent was granted in 1916. The patent was first purchased by the Victor Talking Machine Co. and later transferred to RCA.
Birthplace of renowned photographer Carleton Emmons Watkins. He was responsible for Congress establishing Yosemite National Park.
Boyhood home of Collis, Henry, and Solon Huntingdon of railroad fame.
Home of the National Soccer Hall of Fame
Family home of Willard Huntingdon Wright (pseudonym S.S. VanDine), author of many books. Most notable were the Philo Vance mysteries.
Birthplace of the "Oneonta Clipper" plow. The inventor of the plow is unknown.
Oneonta / USA
by Ron Whalen
With the westward expansion of America in the 1800s, many brave souls followed the earlier pioneers in search of new lands, new dreams, fame, and fortune. Trails were blazed across the Appalachians, the Mississippi, and finally over the Rockies to the Pacific, stretching America's borders from sea to sea.
As these adventurers went forth, new communities were founded and many were named "Oneonta" by those who came from Oneonta, New York, in honor and memory of their beloved hometown.
A common thread woven through most of these places was the railroad. The local Huntington family was an important part of this Oneonta tapestry, due to their leadership in the expansion of the railroad across America.
Perhaps a more appropriate title for this article might be "For the Love of Oneonta," because it was of an era when a person's homeplace was a great source of pride and honor.
Oneonta, NY
"Place of many hills," "place of peace," whatever the place it represents across America, they all had their beginnings right here in Oneonta, New York.
Oneonta Lake in Wisconsin, Oneonta Beach in Hawaii, Oneonta Hotel Resort in Pennsylvania, Oneonta in Kentucky, Alabama, Kansas, Oregon, and California - there may be others - but all were named in honor of our own Oneonta.
The word "Oneonta" comes from the Iroquois "Onaanta," which has had several translations. Oneonta author and early historian Dudley Campbell states, "Oneonta comes from the Iroquois word meaning mountain." Fred Jackson, writing in the "Centennial of the City of Oneonta" in 1948, refers to Oneonta meaning "where the rocks crop out."
Whatever the true meaning given by the Native Americans, who lived here thousands of years before the white settlers arrived from the Mohawk River Valley, that meaning is forever lost.
Oneonta/Oneonta-by-the-Sea, California
The Gold Rush of 1849 brought rapid growth to California. People from the eastern states, especially from Oneonta and Otsego County, New York, came to seek their fortunes in California. Huge parcels of land throughout this new state were quickly gobbled up by speculators for later resale at inflated prices.
One such land speculation was Oneonta-by-the-Sea, located south of San Diego. This land development company, financed by Henry Huntington, began selling deeded property for California's "first planned community" in 1886.
Advertisements in major newspapers of the day told of the great health value of living in this wonderful southern California climate. Many social activities were held in Oneonta-by-the-Sea to attract vacationers, as well as potential property buyers, to this new community.
Unfortunately, the beautiful nearby Pacific Ocean, the mild weather and healthful climate could not protect this Oneonta from the ravages of major flooding. In 1916 the Otay Dam, on the Otay River, broke and the torrent completely devastated this community. Oneonta-by-the-Sea was no more! A few surviving buildings - a church, store, and post office - were eventually moved to nearby Nestor, California, and are still in use today.
The City of Imperial Beach and the Army Air Corps Ream Field took over part of this area that had been Oneonta. One of the few remaining Oneonta place names in this area is the Oneonta Elementary School on 10th Street in Imperial Beach, California.
Oneonta Falls, Oregon
The beautiful and truly unique Oneonta Falls and Oneonta Gorge in Oregon's Columbia River Valley was first photographed by Carleton Emmons Watkins, a native of Oneonta, New York. Carleton Watkins went west with Collis P. Huntington at the time of the 1849 California Gold Rush to seek his fortune.
Watkins lacked interest in both the railroad and mining business, but did discover that he had a talent for photography. He would go on to become a world-renowned and award-winning photographer, having taken some of the first photos of Yosemite, the California Giant Sequoia, and the Columbia River Gorge.
Oneonta historian Ed Moore wrote, "Watkins named Oneonta Falls after his beloved hometown of Oneonta, New York." Today the falls and gorge remain a popular attraction for visitors to Oregon's Columbia River area about thirty miles east of Portland.
The entire Columbia River Gorge is a rare geological formation not seen anywhere else in North America. A series of dramatic events of nature, including unusual volcanic eruptions, severe glacial ice flows and huge floods have all played a major part in the formation of this scenic area.
Oneonta Gorge is also the home of many rare mosses, ferns, lichens, and hepatics.
Oneonta, Hawaii
Hawaii was an independent country ruled by King Kamehameha II and Quenn Emma when Oneonta Beach was named in the 1870s.
Oahu is in the center of beautiful Hawaii. It is home to about eighty percent of its residents.
In 1873, a Hawaiian sold some land to two prominent American families - the Halls and Lewers - who held high positions in the King's cabinet. When Hall's son married Charlotte Van Cleve, who was from Wisconsin, she named the property Oneonta, meaning "place of peace." In 1889, the Halls sold that portion of the land known as Oneonta. This property would ultimately be developed into the world-famous Halekulani Resort Hotel. Oneonta Beach is near Diamond Head and Waikiki.
Oneonta, Kansas
Our Midwestern Oneonta is located in Cloud County, northwest of Concordia, Kansas. This railroad town on the Santa Fe Railroad and near the Republican River made it an ideal trade center of northwestern Kansas.
Oneonta Lake, Michigan
Picturesque Oneonta Lake is nestled among the lush forests of Goodman Township, Marinette County, Michigan. This 66-acre lake is ideal for fishing, boating, and hiking. A search of Marinette County historical records found no clues as to the origin of the Oneonta name there.
Oneonta Hotel Resort, Harvey's Lake, Pennsylvania
When visiting Harvey's Lake in Pennsylvania today - over a hundred years after the building of the Oneonta Hotel in 1897 - one is still in awe of the beautiful crystal blue lake surrounded by the think green forests of varied trees. Once in that picturesque setting, it's not difficult to imagine the stately Oneonta Hotel of that bygone era, when guests would be arriving by steamboat or trolley car for a festive weekend or summer resort stay. Entertainment provided by the resort included sailing, tennis, specially catered picnics, lavish dinners, and dancing the night away to the music of well-known bands from New York City and Philadelphia.
One of its more famous guests was President Teddy Roosevelt, who recalled his many pleasant stays at the Oneonta Hotel.
No documentation has been found regarding the naming of the "Oneonta Hotel," but there was a reference to its being an Indian name meaning a "place of rest."
One could assume that with the Delaware and Hudson (D&H) Railroad nearby in Wilkes-Barre/Scranton and trains running north through Oneonta, New York, this then is perhaps how the hotel derived its name. The D&H Railroad brought many of the guests to the Oneonta Hotel from all over the northeast.
After the mysterious fire in 1919, which burned the hotel to the ground, the name Oneonta still remained visible for many years, with some of the "big bands" of that era playing for dances held at Oneonta Pavilion, and pleasure boats docking at Oneonta Landing. The major water wells supplying drinking water to homes and businesses today, on this part of "The Grotto" at Harvey's lake, are the original wells dug a century ago for the Oneonta Hotel.
When one talks today to present or past residents of the Harvey's Lake area, their faces light up as they recall fond memories of those Oneonta Hotel days in an era long passed.
Oneonta, Kentucky
Oneonta, Kentucky, is located on the banks of the Ohio River in northern Kentucky approximately twelve miles from Covington.
In its day, Oneonta, Kentucky, was a busy steamboat landing site and later a railroad stop for the flourishing trade along the Ohio River. The Central Kentucky Railroad and the Louisville and Nashville (L & N) Railroad served this area well.
Long before this, what was later to become known as Oneonta, Kentucky, had a rich pre-history because a large Indian village and burial mound of the ancestors of the Shawnee were located here. An extensive archeological dig was done, and the recovered artifact collection is on display at the Behringer-Crawford Museum in Covington. In the early 1800s, the famous pioneer Daniel Boone owned land in the northern part of Kentucky.
When the Huntington family of Oneonta, New York, began to spread their railroad empire westward this area was served by the Central Kentucky Railroad. Henry Huntington was placed in charge of this railroad by his uncle Collis P. Huntington, who at that time owned the Chesapeake and Ohio Railroad.
During extensive research, deed maps were found at the Campbell County Historical Society in Kentucky, showing the plots of land owned by Henry Huntington; these later became part of Oneonta, Kentucky.
It is believed that these plots were purchased in expectation of a major railroad and steamboat center being built on this site, but that never came to be.
Oneonta, Alabama
In Alabama, Oneonta is said to mean "the place we seek." The town of that name in northeastern Alabama's Blount County was supposedly founded in 1891 by William Newbold from Oneonta, New York, who was described as "a homesick railroad man." However, no Newbold family has been found in the records of our local Oneonta.
Another possible solution for the name of this Alabama community is suggested by the fact that the wife of New York's railroad builder Collis Huntington, Arabella DuVal Yarrington Worsham Huntington was born and grew up in this region of Alabama.
Oneonta, Alabama, is a well-designed community to handle the Loisville and Nashville Railroad and to mine and ship mineral deposits of iron ore, shale, sand, and coal. The Oneonta area of Blount County has the distinction of being called "the Covered Bridge Capital of Alabama," with four of the state's twelve covered bridges located here. All four bridges remain open to daily public use.
Its picturesque setting among rolling hills and rocky crests is reminiscent of our own "Table Rocks" which overlook New York's Oneonta Valley.
In 1992, Oneonta, Alabama, celebrated its 100th anniversary. The then mayors of Oneonta, Alabama, and Oneonta, New York, exchanged visits and are now close friends.
Carleton Emmons Watkins: Oneonta's Photographic Genius
by Margaret Sanborn, January 1996
When Carleton E. Watkins of Oneonta, New York, arrived by ship at San Francisco, in the wake of the 1849 gold rush to California, there were no obvious signs that this young man, approaching twenty-two, would become the foremost landscape photographer of the 19th century. His latent genius needed only a spark to ignite it, and, typical of human affairs, this came by chance. One day in the summer of 1855, Robert Vance, a successful San Francisco daguerreotypist, asked his friend Watkins to take charge of an out-of-town branch gallery until he could replace an operator who had left suddenly. Although Watkins knew nothing about photography, he agreed, so Vance gave him some basic instructions in the hope they would carry him through the coming Sunday, the most popular time for portrait sittings. Bluff his way, Vance advised, he would be back next week to make necessary retakes. When Vance returned he found that Watkins had mastered the technique, and that his search for an operator was over. Watkins, in turn, had discovered his life's interest and work.
By 1856 Watkins was experimenting with the new wet-plate negative process which he had learned from Vance. Although still laborious, there were great advantages over daguerreotypes because multiple prints could be made on paper, and large pictures taken simply by using a bigger camera. This was ideal for landscape photography which Watkins preferred to portraiture, for he was, according to a friend, "a man in love with Nature," drawn especially to outdoor California where the quality of light enhanced every view, and scenery was dramatic. His first pictures of the coutryside brought him almost immediate acclaim because of the clarity of articulate detail, and original approach when, instead of picturing natural objects of size head on, as was usually done, he captured them in profile or reflected on quiet waters, the mood meditative. In 1858 he was hired to make panoramic views of a quicksilver mine as evidence in a lawsuit. The use of photographs in legal cases was new, and because of the quality of his work, Watkins was often called upon. In this action, when asked in court who had selected the point from which he had taken the picture, he replied: "I did... I went to the spot which would give the best view." His understanding of what comprised the "best view," his awareness of balanced composition, proper contrasts, and the use of reflections, were innate-- manifestations of his genius, for there were no schools of photography as there were schools of painting, where he could learn. Photography was new.
Carleton E. Watkins was the son of John M. Watkins, an Oneonta innkeeper. His mother was Julia Ann (MacDonald) Watkins, whose family, the MacDonalds, were founders of Oneonta. It is probable that Carleton was lured to California by the commercial success of his Oneonta friend Collis P. Huntington, destined to become a millionaire and promoter of the trans-continental Central Pacific Railroad. By the early 1850s (he had come west in 1849) Huntington was about to make his first fortune in the hardware business at Sacramento, gateway to the rich gold deposits of the Sierra foothills, and Watkins went to work for him. Then, in November 1852, a disastrous fire destroyed the store and Watkins' quarters. He turned to carpentry, helping to rebuild the town, and went to live with George W. Murray, another Oneonta friend, who was a prospering Sacramento bookseller and stationer.
The year 1854 proved fateful for Watkins when George Murray moved his business to San Francisco, and Carleton moved with him. He became a clerk for Murray & Company, located in the newly completed Montgomery Block, described by a contemporary as "the largest, most elegant, and imposing edifice in California." One of the owners was Trenor W. Park of North Bennington, Vermont, an attorney who represented Col. John C. Fremont's mining interests located just west of Yosemite. It was while Watkins was working at Murray's that Robert Vance asked him to take temporary charge of his gallery.
In 1860 Watkins received, through Trenor Park, his first big commission, to make a photographic record of Fremont's property. He drove over the 44,000 acres in an open wagon, searching for the best views of mines, structures, and terrain, when he would stop, set up his dark-tent hardly larger than himself, to coat his glass-plates, and later process the negatives. The next year Fremont showed these pictures to the Rothschilds and other Paris bankers, as well as to the Emperor Napoleon III, hoping to interest investors, for his estate was over a million dollars in debt. The photographs were admired as works of art, but Fremont failed to raise capital.
Watkins made his first trip to Yosemite with Trenor Park and his family, in 1861. He took with him a special 18-by-22-inch camera made to his specifications, and twelve mules to carry his equipment, weighing perhaps a thousand pounds. The camera consisted simply of a wooden box with an opening in front for the lens and one at the back for the ground-glass plate. With this camera he was to make a series of views which elevated his work to the status of fine art, and brought him honors and fame at home and internationally. These pictures (which introduced Yosemite to the world), became noted for their absence of human figures or signs of man's presence. "All seems wild, primitive nature," one London critic wrote admiringly. This presentation of landscape appealed strongly to British and European viewers whose own pristine wilderness had vanished long ago.
The inspiration Watkins gained from Yosemite imparted a sense of mystery and wonder which enhanced the viewer's experience- yet this mystic quality was satisfying because it was free of all artificiality. His reputation spread rapidly, and soon the eminent critic of photography, the versatile Dr. Oliver Wendell Holmes, was describing Watkins' work as "a perfection of art." Charles Savage, a well-known British landscape photographer wrote that "among the most advanced in the photographic art, none stands higher than Mr. C.E. Watkins, who has produced results second to none in either the eastern or western hemispheres." In 1862 the pictures of Fremont's holdings were shown at an exposition in London, and that December there was an exhibit of Yosemite scenes at a New York City branch of Adolphe Goupil's Paris art Gallery. There most viewers saw Yosemite for the first time, and marveled at a landscape so extraordinary as to appear unreal. In truth, nowhere in the world does another like valley exist.
The landscape painter Albert Bierstadt studied Watkins' photographs as Goupil's and found the challenge to his brush so stimulating that by April 1863 he was on his way to paint in Yosemite. He came under its spell, just as Watkins had, and returned year after year for new field sketches. However, when making his final paintings at his home studio, Bierstadt relied on Watkins' photographs for renewed inspiration and for details. Most other painters of Yosemite used the Watkins pictures for this same purpose.
Carleton Watkins has never been duly credited for the early preservation of Yosemite Valley. Few realize that his "Yosemite Views" were chiefly responsible for the Valley being made a state park. By 1864 a group of concerned Californians, fearing that all of the area's groves of rare Giant Sequoia would be lumbered and the unique beauty of the Valley destroyed through sheep and cattle grazing, ranching, business enterprises and other exploitations, developed a novel plan to convert Yosemite into a "wild park" which no one would be allowed to alter. Although it would be set aside for public recreation, the State of California would control it. (All forest and public land was then held by the federal government.) With rare forethought, the prominent San Franciscan who proposed this action to California's United States senator included a copy of Watkins' "Yosemite Views" to be presented to Congress with the bill. It is said that the pictures made their way to the White House where President Lincoln studied them. It is known certainly that they were hung in the Senate for all to see. In spite of the multitude of distractions and pressing demands upon the federal government in this third year of the Civil War, the bill to make Yosemite a state park passed both houses, and Lincoln signed it into law on June 30, 1864. Such rapid action would have been impossible if the President and members of Congress had not the visual proof, through Watkins' camera, of the remarkable natural wonders they were called on to preserve.
Until 1866 Watkins had limited himself to scenes within Yosemite Valley and views from Inspiration Point, but that year he was asked to accompany the State Geological Survey to photograph Yosemite's high country as part of its work. He was at that point in his career when he made news, and the local press reported: quot;Mr. Watkins, the artist, is engaged at the present time... taking photographic views of wild mountain scenery." During that season he produced, at high altitudes, some of his most dramatic pictures in which scene and viewer seemed to drift dreamlike in space. As a tribute to his art and to himself, members of the survey named the 8,500-foot dome, soaring above Mirror Lake, Mt. Watkins. The next year he sent thirty Yosemite views to the Paris International Exposition, which awarded him first prize, and the only medal for landscape photography.
In 1870 Watkins moved his earlier Yosemite Art Gallery to a more commodious and fashionable location at 22 and 26 Montgomery Street, just opposite San Francisco's palatial and popular hotel, The Lick House, where Mark Twain stayed in 1863. Fittingly, Watkins' gallery which included a suite for portrait work, and a special exhibit room to display his ever-popular Yosemite scenes, was "elegantly furnished." It was said to be the finest gallery of its kind in this country. Watkins himself was an attraction, for he was well-liked, and he added to his already large circle of friends by making more among the prominent and wealthy San Franciscans who flocked to his gallery, with the result that he was commisioned to photograph their Nob Hill mansions and country homes, inside and out, and for commercial reasons, their ranches and cattle or crops. Although the houses and gardens were unpeopled, through his art Watkins managed a feeling of presence, as though the occupants had just stepped out of sight.
Watkins "circulated in the upper strata of society," accepted as an equal, which most artists were not. He attended dinner parties and balls given by these friends, his company appreciated because of his engaging personality and keen sense of humor. It has been remembered that he could discuss expertly the comparative qualities of French wine- or talk of books, for he was well-read. In 1872 he was invited to join San Francisco's exclusive Bohemian Club (which he did), reserved for artists and writers of outstanding achievement, and also became a member of the newly formed Art Union. The next year he was awarded a medal at the Vienna Exposition.
After the completion of the Central Pacific Railroad, Collis Huntington issued Watkins a permanent pass, furnished him a flat car to transport his photographic van (which replaced the dark-tent), horses, and equipment, and reserved space in a coach for his personal comfort. This enabled him to travel farther more quickly and easily, and was especially helpful after his decision to document the entire American West from Alaska to Mexico, and from the Pacific Coast east to the Rocky Mountains of Montana, a monumental task which furnished posterity with a priceless historic record.
But then misfortune fell. During one of his excursions, John J. Cook, who had advanced him money to finance his gallery, took advantage of his absence and called in the loan which Watkins had deferred paying. Cook ordered the gallery seized and the contents auctioned. I.W. Taber, a portrait photographer in the same building, acquired the negatives- some one hundred mammoth plates of Yosemite scenes and over a thousand stereoscopic views, which he hastened to print and sell under his own name. Angry but undefeated, Watkins was soon on his way to Yosemite to start what he called his "New Series," and try to recoup his financial losses. Setting up his camera at favorite points he obtained results of the same high artistic order, but with a difference in that there were evidences of increased sensitivity for his subject and a firmer grasp of technique, gained through experience and maturity.
On his fiftieth birthday in November 1879, Watkins married Frances Sneed of New York, twenty-eight years his junior. That same year he reopened his Yosemite Art Gallery at another address on Montgomery Street, next to the Palace Hotel. Reflecting the inn's elegance, the gallery was "handsomely...fitted up with solid walnut showcases, tables and easels" to display his new Yosemite series. The walls were hung with a wider range of subjects, reflecting his extensive travels. In addition, there were close-ups of Yosemite's trees, so detailed they were used by botanists to identify the species. There was, as well, a newly completed series of California's Franciscan Missions.
After the completion of the transcontinental railroad, increasing numbers of travelers began touring the West, and the demand for pictures of its spectacular scenery turned outdoor photography from an art form into a highly competitive business. The field was soon overrun by a host of mediocre picture-takers, who lowered prices. Carelton Watkins refused to compromise his art to sell it. His friends worried, for he began losing money rapidly. He was not a business-man. Although he had made large sums he was generous with the less fortunate, and spent money without any thought of the future. Collis Huntington, aware of his friend's plight, deeded him an 80-acre ranch in California's Capay Valley, which was leased to bring a needed income. Then, in the 1890s, Watkins' sight began to fail, he was plagued by poor health, and forced to curtail his work. After he had to abandon a lucrative commission to photograph the country estate of Phoebe Apperson Hearst, the Capay ranch became a home for Frances Watkins and their two children, Julia and Collis P., while Carleton stayed in San Francisco, attempting, with the help of assistants, to continue making and selling prints of his photographs.
Aware of the historical importance of his collection which included rare daguerreotypes of early California people and scenes, and represented the work of most photographers of the West, he arranged with Stanford University for its preservation. On Sunday, April 15, 1906, a friend who was cataloguing his holdings (for Watkins was almost totally blind by then) was packing them for shipment. Three days later, April 18th, before anything could be sent away, San Francisco's great earthquake struck, and it its wake, the devastating fire which swept through that part of the city where Watkins' gallery stood. Nearly all of his life's work was destroyed. In shock, ailing, and broken in spirit over this second total loss of his oeuvres, he went to live on the Capay ranch.
His health and eyesight continued to worsen. Unable to find inspiration for living from the world of nature which had sustained him, for it now existed only in his mind's eye, he turned inward. In 1909 his family had him declared incompetent, and his daughter Julia, then thirty-five, became his guardian. By the next year his condition had deteriorated so greatly, he was examined by two mental health physicians who recommended confinement in the Napa State Hospital. There he would remain for six and a half years. According to his medical report, his health declined yet further as a result of Bright's disease, blood-poisoning from a shoulder infection, edema of the lungs, and finally, "General Pneumonia."
On June 23, 1916, Carleton Watkins, the master landscape photographer of his time, whose candid expression of his own profound experience in nature set a high aesthetic standard for those who followed; who blazed the way for the use of the camera in photojournalism and as a tool to document history, died at seven o'clock that evening. Three days later, he was buried on the hospital grounds.
The Oneonta News Company
by Karyl Sage
Before television and social media were the norm, people relied on newspapers and radio for news
In New Berlin in 1929, six weeks after the beginning of the Great Depression, Ralph Sage slipped and fell, losing a leg under the wheels of a train on which he was the conductor. The family was then without income. In the following years, work was hard to find, but after receiving a prosthesis he was again able to walk and drive and he found work in delivering newspapers. In the early 1930s the family moved to Norwich. There were two daily papers in Norwich, a morning and an evening paper and the train brought in newspapers from other communities, such as Binghamton and Utica. He had a rural route and delivered handbills (advertisements now found as inserts in newspapers) for the Acme and Victory Markets in Norwich. When his sons, Charles and Robert were old enough they, too, had paper routes.
A.M. Pierson of Binghamton, a distributor for newspapers and magazines, had wholesalers throughout the area. In the 1940s, Pierson offered Mr. Sage the management of the Oneonta business. The family then relocated to Oneonta. That move resulted in a twenty year, seven day a week job for all members of the family. Both sons finished high school, served in the Armed Forces and had jobs of their own, as well as working with their father and mother in the paper business. When son Robert married, his wife also joined the company.
They operated a wholesale newspaper business, The Oneonta News Company, first located at 75 Main Street and then at 350 Main Street, where the Oneonta Post Office now stands. On street side was a large apartment house with six apartments and behind that was a building that included an office, a large workroom lined with metal top tables, and an inside loading area for trucks. There were other buildings that served as storage and garages for equipment.
The dealership handled all the newspapers that came into Oneonta except the Daily Star and the Binghamton Press. Among the major papers distributed were the New York Times, Herald Tribune, New York Mirror, New York News, Albany Times Union, Philadelphia Inquirer, Knickerbocker News, Wall Street Journal, Binghamton Sun, Syracuse Herald, National Observer, Il-Progresso Italo-Americano (an Italian language daily newspaper published in New York City), Scranton News and the Racing News. Newspaper were shipped to Albany by train. A distributor from Albany delivered them to Oneonta, arriving between 5 and 6 AM on weekdays.

Ralph Sage next to an Oneonta News Company delivery truck.
Week Day Deliveries
Daily papers from NYC were shipped by train to the Albany train station. A driver from Albany, off loaded the papers, made a stop at the Albany Times Union and the Knickerbocker News, and bundled the papers for deliveries along Route 7 from Quaker Street to Oneonta. Along with the daily papers, inserts for the Sunday papers (advertisements, comic sheets, magazine section, social section) were included in the delivery. During the week, Sage had completed labels with the order for each wholesale costumer. When the dailies arrived, the paper bundles were then opened, positioned around the room on long metal top tables and brought to the counting and tying table. Sage would count out the amount and tie a new bundle and attach the label. The newspapers were then delivered to stores on Main, River, and Chestnut Streets. Deliveries were also made to Homer Folks Hospital and the State University's Old Main building by car.
Sunday Deliveries
On Saturday afternoon a family member or a local driver would drive to Albany, stopping along the way to leave the inserts for the Sunday issue and to collect the bills from the dealers along Route 7, with the last stop at Duanesburg. The driver would then go to the Albany train yard. Railcars loaded with newspapers from NYC would be offloaded by wholesalers from the surrounding areas. The driver would then go to the Albany Times Union and the Knickerbocker News for their editions, and prepare the orders to distribute to the dealers along Route 7 on the way to Oneonta. The remainder of the load was for Oneonta distribution. Early Sunday morning a truck from Binghamton also brought newspapers.
Once in Oneonta, the newspapers were placed on a designated metal topped table (one area for each major paper) and family members and delivery boys would put the papers together. The New York Times table and The New York Herald Tribune table always had a running game to see which would finish first. Approximately 1,000 copies of the New York Times and 750 copies of the New York Herald Tribune were sold in Oneonta. The Sunday New York News had the largest readership with about 1250 copies with the New York Mirror close behind with about 800 copies.
They were then loaded on a truck and delivered throughout the city. The first stop was the Bishop Drug Store about in the center of the block between Elm Street and Ford Avenue. The largest dealer, the Palace Cigar store, was next. That was on the corner of Ford Avenue and Main Street, where the Community Bank is today. Two dealers, McPhail's Pharmacy and the City Drug Store, were in the block between Dietz and Chestnut Streets. The papers for those businesses filled the truck. The truck then returned to the building to be loaded with papers for the "loop run". The route continued to lower Main Street to Drago's and then Bruno's Market, down River Street to Rossi's Grocery, Zummo's Grocery, Van Buren's Market, Friendly Grocery, over the old railroad bridge to Oneida Street to the Duke Restaurant, back to Chestnut Street to The West End Pharmacy (now Rite-Aid), Vern's Market at the corner of Chestnut and Murdock Avenue, and to Ken's Grocery on the corner of Kearney and Chestnut Streets. Another truck was loaded for the "country run" which began in West Oneonta with a stop at the home of the delivery boy. It continued to Laurens, Mt. Vision, over the hill by the way of the Arnold Lake Road, to Milford, and then to Portlandville and a stop at the store in Colliersville.
Over the years, over a hundred Oneonta boys worked there. Familiar Oneonta family names included Bagnardi, Rohanavech, SIlvernail, Weideman, Courtney, and Pidgeon along with many others. They put the newspapers together and had paper routes delivering house-to-house. The Catholic Church was one block from the News Company building (at the corner of Main and Grand Street) and a boy would load a wagon, and pull it to the front of the church as each mass was over. It was the most profitable delivery route and seniority determined who would get that job. The delivery boys learned the lessons of work and following rules under the guidance of Ella Mae Sage. She was a task master with a huge heart. Law enforcement would often bring a boy to her to ask that she give the boy a job and mentor him. She never turned one away and there are many success stories of how that encouragement and trust changed their lives. The paper boys always enjoyed a festive holiday party each year. After her husband's death in 1956 she continued the company for another 10 years, with the help of her two sons and daughter-in-law.
Newspapers that did not sell were returned to the office. The heading (newspaper name and date) was torn from the paper and returned to the publisher for credit. The remaining part of the paper was bundled and taken to the junk yard. Local veterinarians would also use the newspaper for bedding for animals. The bookkeeping, collecting of bills, bank deposits and writing of checks was done by a family member. A newspaper worker works when others are sleeping, every day of the year, regardless of the weather and there was always the element of time. "A dead newspaper does not sell."
Magazines and Paperback Books
The company also distributed magazines and paperback books to dealers in Oneonta and Cooperstown.
Mrs. Sage retired in 1966 when the property was purchased for the new Post Office as the first phase of Urban Renewal was beginning. She passed away at the age of 95. Deliveries were then handled out of the A. M. Pierson Office in Binghamton.
Oneonta Sales Company
by Karyl Sage. Photos courtesy of Russ Padden and Karyl Sage.
Early building and dealership
A mainstay of the community, The Oneonta Sales Company operated an automotive business for over 80 years at 27-33 Market Street in Oneonta. It was founded by Riley J. Warren who came to Oneonta in 1910 and started a partnership with a Mr. Fitch, selling gasoline engines and farm equipment.
Riley J. Warren/Beatrice Blanding
Riley J. Warren was born in 1871 in Pleasant Brook, south of Cherry Valley and attended the district school with one term at Cooperstown. He graduated from Albany Business College in 1889. The last year of his attendance there and the following year he was employed by the T. T. Haydick Wagon Company at the Albany branch. In 1890 he returned to Pleasant Brook and opened a general store in which he was assisted by Mrs. Warren, formerly Miss Lillian Nielson Winne of Pleasant Brook, whom he married November 17, 1892. The Pleasant Brook store continued for twenty years.
Following Mr. Warren's twenty-first birthday in February 1892, the town caucus elected him, an active Republican, as Town Clerk. That service was interrupted by his election as County Treasurer. Just before completing that six-year term, he entered into business at Oneonta in a partnership with Mr. Fitch, but Mr. Fitch died in spring 1912. When Mr. Warren completed his term he moved to Oneonta to carry on that business on Market Street. The family lived at 12 Walnut Street for their entire lives. Mr. Warren distributed gasoline engines and farm machinery until the fall 1912, when he began the Oneonta Sales Company. The franchise came to include Ford, Mercury and Lincoln automobiles. At one time, also Ford tractors and Firestone, Socony gasoline, and Mobil oil products.
He was named the Oneonta Ford dealer in 1912. The company's building was erected in 1920 but several additions were necessary to care for the increasing volume of business. In one year in the 1930s, the agency handled nearly 1,500 Ford units of cars, trucks, and tractors, and was the largest Firestone account in the world. The business totaled more than a million dollars in sales. His daughter, Mrs. Beatrice (Donald) Blanding, was associated with her father and as a Christmas gift from her parents in 1925 she received a substantial partnership in the Oneonta Sales. Their relationship was very close and she always credited her father with helping her to develop the ability to prosper in what was then a masculine business. Mr. Warren died June 6, 1941. Following his death, Mrs. Warren and Mrs. Blanding continued the business. The firm was incorporated in 1949, and Mrs. Blanding became President of the concern with Mrs. Warren as Vice-President. Mrs. Warren died in April 1953 following an automobile accident.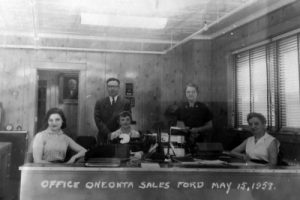 Office Staff, 1957: Theresa Leslie, Sidney Levine, Janice Scharr, Beatrice Blanding, Florence Disbrow.
Photo on the wall: Riley J. Warren, company founder and father of Beatrice Blanding.
In 1932 Mr. Sidney Levine came to Oneonta, to manage the Palace Theatres. He joined the Oneonta Ford Sales Co. in 1934, which became the Oneonta Sales Co. in 1975, where he worked as General Manager and then President until his retirement in 1997.
Mrs. Blanding was married to Donald Blanding, a businessman in Binghamton. They had homes in both cities. After his death she remained at her Walnut Street home. She was active in her church, The First Methodist. Often on Sundays she would visit her cousins in Pleasant Valley. She rarely traveled and was most happy with her life in Oneonta. She would attend meetings and conferences related to the business.
In her later years there was always an employee to assist her. When she arrived at work in the morning she would drive to the front door and a person would take her car and park it and when she was ready to leave the building the car would be brought around for her. On Saturday mornings, before lunchtime, a worker would take her car to Wall Street and park it behind Bresee's. When she left at noon, a driver would take her to Bresee's and she would have lunch at the famous Health Bar, often with one of the Bresee brothers. When she finished, her car was available for her at the back entrance.
When her health prevented her from the regular routine, she would be at the office for part of the day. Later after she was confined to her home, she had round the clock care, but kept up with the business.
Building Lay-out /Annex/Used Car Lot
The building at the corner of Chestnut Street Extension and Market Street was constructed to have access from both streets. The first floor had a showroom with cars on display, and offices in the front as well as a counter for the Parts Department. The rear of the building had two sections for radiator and mechanical work and could be accessed from the front and the rear. The second floor had two large doors on the Chestnut Street Extension side. One door opened into the body shop and the second door to a large area for vehicle storage.
Directly across Market Street was a building between West Nesbitt Feed Mill and B-Line Moving. The building was known as the annex. Routine work was done there, such as oil change and tire mounting. The back of the building had access to the railroad tracks and tires were delivered to that building and stored there.
As the business grew, property at the head of Market Street was used as a used car lot. The city fire and police department are now at that location.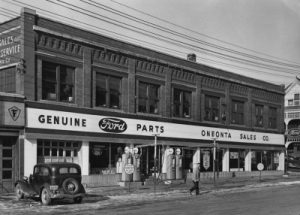 Building at 23-27 Market Street (1930s).
Employees: The employees represented a true microcosm of the city's population. It was a diverse combination representing the ethnic, religious, and ability characteristics of the city. All Mrs. Blanding expected was a good work ethic, honesty, loyalty and promptness. Mrs. Blanding was never known to lay off a worker if business was slow. There was always work for them to do, painting, cleaning, and moving items and sometimes even small jobs at her home. During many years over 50 people were employed at The Oneonta Sales Company.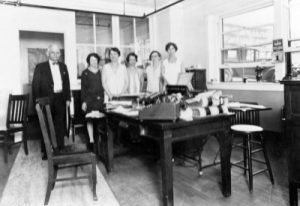 Undated office photo: Includes Riley Warren and Beatrice Blanding (the taller woman).
Delivery of Parts and Tires: During the early years and up until the 1970s the company had an extensive business in the delivery of part and tires. It was the regular job for a full-time employee. For some new, young employees their first job was to accompany and help the driver. They would be gone for most of each day, delivering to businesses in the surrounding counties. The parts department continued to serve area automotive businesses until the business closed.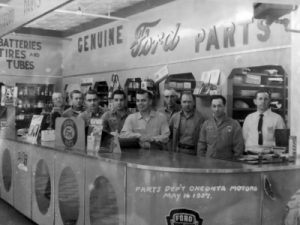 Stock Room: Art Loucks, Stuart Vroman, Robert Vroman, Leroy Perry,
Don Holcomb, Art Laing, Milt Brown, John Fosano, Charles Sage.
Office Staff: The office was on a raised area at the side of the showroom. Mrs. Blanding's desk along with three others was in that area. Directly off that was a small office used by Mr. Levine. Usually there were three additional female employees for office work. At one time, the workers would go to the office area on payday and sign their checks. One of the office workers would take them to the bank, cash them and return with the money and put the correct amount in an envelope for the employee. Mrs. Blanding arranged financing for customers. Some accounts were carried through The Citizen's Bank, which is now Key Bank. The company held the accounts for some customers. Customers would come in to the company each month to make a payment, including those carried by the bank. For the customer, Mrs. Blanding would record the transaction in red ink on the back of their contract. This personal connection with the customer was an important part of the business. Employees were encouraged to shop locally, and pay their bills with a personal contact.
Mechanics/Radiator Repair: Many exceptionally well-trained mechanics were employed. The company kept current with new innovations and mechanics were often sent out of the area for training. The radiator repair department was well known for exceptional work.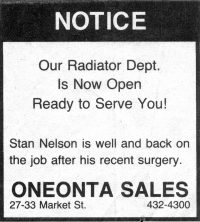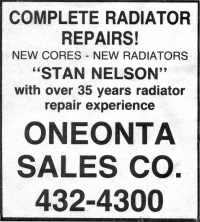 Radiator Department advertisements:
Courtesy of Russ Padden, whose father-in-law, Stan Nelson, worked there.
Body Shop: The body shop was located on the second floor with direct access from Chestnut Street Extension. The workmanship of the body shop employees was above standards and well regarded in the community. The paint shop was known for superior work.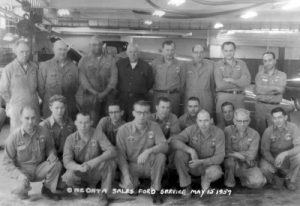 Mechanics, Radiator Department, Body Shop.
Front Row: Roy Moorby, Arley McMullen, Dick Vroman, Harold Duele, Ernie Gage, William Reilly
2nd Row: Arnie Larson, Stan Nelson, Ken Leslie, Claude Joslyn, Red Courtney
Back row, from left: Joe Nutter, Don Lingner, Dick Bennett, Pete Reede, Alex Szczepkowski, Leo Nutter, Rudy Kreck, Sam Amitrano
Sales: For many years the Vice-President and several salesmen would travel to Buffalo for the introduction of the new models of the Ford cars. It was a large promotion by Ford Motor Company and models and styles were kept secret until the announcement day. Cars being delivered by transport or train would be covered as well as the show room windows. People attending the introduction of the new models would be presented with gifts or flowers. In 1930 The Daily Star announced that The Oneonta Sales Company was planning a public reception at their Market Street showroom. Over 3,000 saw the new Ford car on exhibition there. The salesroom of local agency was filled with visitors for two days with no unfavorable comment. 200 orders for new Fords were booked by Oneonta Sales Company during the showing.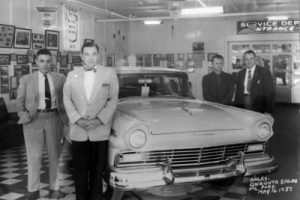 Salesmen: Gerald Levine, Ed Deery, Walt Mindich, not identified. Absent: Robert Sage.
Sales continued high until the loss of the franchise in 1975. The Oneonta Sales Company was often a successful bidder for municipality contracts for vehicles, trucks and police cars. Many trucking firms routinely kept their fleet updated with Ford trucks.
The company had a display at local Home Shows as well as the Morris Fair each year for many years. The Oneonta Sales Company also sponsored Ford Motor Company's Punt, Pass and Kick football competition each year.
Firestone Home and Auto Store: From the 1940s until 1955 the company operated a Firestone Home and Auto Store at 128 Main Street (now the Clinton Plaza area). The inventory included toys, games, trains, bicycles, sleds, electrical appliance, gas ranges, auto accessories, seat covers, Christmas decorations, televisions, paint, rain coats, lunch boxes, garden tools, flashlights, and batteries. When the store closed, inventory was moved to the Market Street building and automotive items were continued with other items phased out.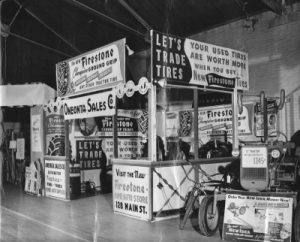 Oneonta Sales display for Firestone Home and Auto Store at a home show.
Loss of franchise/Urban Renewal: In 1973 Urban Renewal uprooted many businesses and drastically changed the city. The Oneonta Sales Company continued although access to the Market Street area was often difficult for customers and employees and for the delivery of parts, tires and new cars. Mrs. Blanding was determined to weather the change. She was totally committed to remain in the building that her father had built. In 1975 Ford Motor Company was also making changes. Ford introduced new sales techniques. It required that dealers have a large modern building on the outskirts of communities and all cars were to be outside. Customers could then see what was available as they drove by and could visit the area off hours to investigate what was there. Mrs. Blanding was totally committed to the city and felt that when people came for work on their car they should be able to frequent the business district of the city.
Ford Motor Company also required that dealers were to accept the vehicles that Ford sent them regardless if there were no customer orders for those vehicles. This rapidly moved cars from the manufacturer and they then became the responsibility of the dealer. Dealers were charged interest for the cars as they were not paid for. This was in total opposition of Mrs. Blanding's method of conducting business. She paid for every vehicle when it was delivered and she refused to take vehicles that she knew would not sell. She knew her customers' needs and what they desired. She also felt that the cars should be kept inside. There was ample room for new and used car inventory on the second floor (accessible from Chestnut Street Extension). At one time a building on Broad Street was rented for storage of new cars. That was destroyed by fire and four cars were lost. Standing firm and not willing to move to the South Side, the Ford franchise was terminated by the Ford Motor Company. The Oneonta Sales Company did acquire a used car lot on Main Street as their inventory of used cars increased. The decline of the dealership was directly related to the Urban Renewal and the thinking of the 1970s that suburban sprawl was necessary for business growth.
Mrs. Blanding was a true philanthropist, with most gifts being given anonymously. She developed the Riley J. and Lillian N. Warren and Beatrice W. Blanding Foundation with the purpose of funding charitable organizations in the areas relating to arts and culture, child welfare, education, hospital and health care, human services, and people with disabilities Hundreds of thousands of dollars have been and continues to be awarded to local as well as out of state charitable organizations. Local churches, cemeteries, hospitals, clubs, libraries, colleges, and activities for children are helped by the Foundation. Her legacy lives on, but unfortunately, the city has plans to demolish the building at 27-33 Market Street.
Center Street Elementary School
Center Street Elementary School
by Ron Whalen
In 1895, a good salary brought the rate of fifty cents an hour. A ride on the trolley cost five cents, a pair of new men's shoes cost one dollar and stylish women's dresses sold for four dollars. Electricity powered most of the lights for downtown Oneonta's stores, with only two or three homes having attained that luxury. Money was in short supply, but the residents and the elected civic leaders of the Village of Oneonta thought education was a necessity, an important asset for the children of Oneonta to have. Therefore, the village council allocated what would be an outstanding investement of $20,000 for the construction of a new elementary school at a Center Street location.
The land for the new school had originally been part of the Huntington family farm. The property was purchased, the land cleared, and construction began for the new facility with classes officially beginning two years later. A new neighborhood school with a century of rich heritage had been created.
The faculty and staff of the newly constructed Center Street Elementary School consisted of Miss Linda Meade - Principal, Miss Carolyn Hurlbutt - First Grade, Miss Jennie Shearer - Second Grade, Miss Cora Shearer - Third Grade, Miss Leilla Tanner - Fourth Grade, Miss Nellie Wilson - Fifth/Sixth Grade. The school's student body numbered over one hundred seventy. The large windows of the school brought sunlight and warmth into this new structure. Classrooms were located on the first and second floor and the entire third floor was occupied by the auditorium. The new school was a source of great pride to the rapidly expanding community. Unfortunately, in a few short years, this rapid, unplanned growth would make the local civic leaders and residents wish they had built a larger school.
In 1906, Center Street Elementary School would enter into a whole new chapter of Oneonta history. In that year, Center Street School was leased by the Village of Oneonta to the State of New York to be used as a practice teaching and training school for the Oneonta Normal School (fore-runner of the present-day State University of New York at Oneonta). This leasing arrangement came about due to the closing of a state normal school on Long Island, bringing a large influx of practice teachers (today's student teachers) to the already filled-to-capacity Oneonta Normal School. This lease arrangement was devised to help ease the practice teaching crisis at Old Main. During this era, only unmarried women were hired as elementary school teachers and principals. A few men taught at the high school level. The faculty of the state-run Center Street School was led by Principal Miss Addie Hatfield and faculty members included Miss Ellen Hitchcock, Miss Mabelle Boynton, Miss Estella Matteson, Miss Ellen Vaughn, Miss Alice Esmond, Miss Jennie Green, and Miss Faith Brigham.
The long-term lease agreement lasted for twenty-seven years until 1933, when the Bugbee School was built adjacent to Old Main by the State of New York. Bugbee School became the new campus school for the Oneonta Normal School, with Center Street School reverting back to the community for use by the Oneonta School District.
With passing years, Oneonta's north-central section became the fastest growing part of the city. By the early 1950's, the student enrollment had mushroomed to over three hundred seventy students. Since the school's opening, adjacent properties had been bought for residential homes, reducing the open playground area to a "postage stamp" size. Adjustments in the building were needed to handle the increased student enrollment. The third-floor auditorium was converted into a classroom; even the basement boiler room doubled as the instrumental music room and gym. The principal's office was made into a classroom with the principal using part of a cloakroom as an office. Assembly programs were held in the stairwell area. During those "crowded days" of the 1950's, Earl Smith became the school's first male principal. Mr. Smith is fondly remembered for teaching dancing lessons to the students every Friday afternoon during school.
In the late 1950's, the school board realized all their schools were deteriorating and initiated several surveys conducted by professional firms to assess the future needs of the district's schools. The results were dramatic. Every school needed major structural repairs. All were over-crowded. Oneonta needed to consolidate and build new, updated facilities at all levels. New properties were acquired, some schools were closed with new expansive buildings taking their place. Center Street remained the exception. The old part was renovated in 1961 with a new addition built, consisting of a gymnasium, cafeteria, library, and spacious classrooms at the cost of $580,000. The two buildings were joined together, proving that the past, present and future can prevail.
The school population remained constant during the 1960's and early 1970's, with Miss Lucille Houck as principal. The long-tenured classroom faculty members included Mrs. Ann House, Mrs. Irene Miller, Mrs. Marcella Drago, Mrs. Jane Sloan, Mrs. Christine Truesdall, Miss Lou Ella Gridley, Miss Helene Higgins, Mrs. Angeline Nielsen, Mrs. Dorothy Doyle, Mrs. Helen Swackhammer, Mrs. Mattie Clune, Mrs. Coralyn Rose, Mrs. Wava Cuyler, Mrs. Helen Ranieri, Mrs. Marlene Pidgeon, Mrs. Joanne Schoonover, Mrs. Mary Benjamin, Mrs. Dawn Minette and Mrs. Ellen Delaney. Mr. Richard Picolla became principal upon Miss Houck's retirement. In the late 1970's and early 1980's, a few of the school's many principals were Miss Dorothy Perry, Mr. John Higgins, Mrs. Ginger Uhl, and Mr. Joseph Cichello.
The 1980's brought a dark cloud of possible closing over the school- redistricting caused a decline in enrollment, coupled with shrinking school budgets. With the school board's redistricting and the issue of closing the school at odds, battle lines were drawn by residents throughout the district, who enlisted the assistance of Oneonta Mayor James Lettis and other civic leaders. Residents rallied, as in the past, strongly believing Center Street School was an important neighborhood asset and an educational necessity. A public referendum approved keeping the school open.
In 1989, the Oneonta City School District allocated nearly $1.5 million to remove asbestos from the old school's walls, ceiling and floors. Renovations were made to retain the one-hundred-year-old interior architecture style of the building. Mr. John Cook was principal during the school's long renovation period, and he currently serves as the school's principal.
Center Street Elementary School, through its historic past, looks forward as it begins its second hundred years of service to its increasing student population and to the entire Oneonta community.
Oneonta's Sesquicentennial (1848 - 1998)
Oneonta's Sesquicentennial, 1848-1998
by Ron Whalen
Nestled among the rolling hills of the Susquehanna River Valley, Oneonta looks to its future while fondly remembering its proud, historic past.
The tribes of the Iroquois Confederacy once inhabited this lush, green forest land teeming with fish and wildlife. They traversed its many streams, lakes, and rivers.
The Palatine-German-Dutch and Scotch-Irish settlers made their way here from the Mohawk River Valley during the Revolutionary War years, and cleared the land to start a new page in Oneonta's history with their farms and mills. Family names such as Vanderwercker, McDonald, Swart, Scramling, and many others brought a new life to what would be known first as McDonald's Mills, then Milfordville, and finally Oneonta, as we know it today.
The construction of new turnpikes, through what was once only small, narrow Indian trails in a frontier land, would open up new markets for local products, goods and services.
But it would be the coming of the iron horse- the railroad: the Albany and Susquehanna, the Delaware and Hudson, the Ulster and Delaware, and the New York Central among others- that would bring about the greatest and most lasting changes to this community. Immigrant families coming to Oneonta from all over eastern and western Europe would truly make this region a rich American melting pot of ethnic, social, cultural, and religious diversity and heritage.
"Early Days In Oneonta," by Alva Seybolt
The territory now occupied by Oneonta was part of Albany County, one of the ten original counties of New York Colony. After the French and Indian War it became part of Tryon County. In 1784 it was part of Montgomery County and finally in 1791 Otsego County. Between 1791 and 1801, the lands of Oneonta would be part of various towns including Unadilla, Suffrage, Otego, and Milford. Oneonta had its birth about 1817 when a post office was created here under the name of Milfordville. In 1830 the New York State Legislature "erected" the Town of Oneonta out of the Town of Milford and we then began to have a separate town government.
In this age of interstate highways, supersonic transport planes, the Internet, e-mail, and satellite dishes, it is difficult for us to picture the isolation in the 1830s of the area that later would become known as Oneonta, New York.
Alva Seybolt writes in his manuscript:
There were no railroads anywhere and telegraphs, telephones, and airplanes had not been dreamed of. There were no roads or highways worthy of the name. Our main roads were difficult, sometimes almost impassable because of old tree stumps, mud, rocks, and stones. Most of the traveling was by horseback.
The construction of the Charlotte Turnpike in 1834 opened the way through to Catskill on the Hudson River and to Gilbertsville in the Butternut Valley, which made it possible for farmers to reach a marketplace to sell their goods. This turnpike, poor as it was when compared with our modern roads, gave a great impetus to the growth and prosperity of this region.
Several charters were granted in the early and mid-1830's to create railroad systems in the area, but it would not be until August 29th of 1865 that the first railroad train would come steaming into Oneonta.
The growth of what would become the Village of Oneonta would be very slow- from about 250 in 1830 to 678 in 1860. However, public-spirited and forceful men like Eliakim R. Ford, Harvey Baker, Jacob Dietz, John Watkins, Jared Goodyear and others were employing their time, energy, skill, and money into making the Village of Oneonta a thriving, successful place in which to live and work.
On October 27, 1848, the Village of Oneonta was born by a court order signed by Otsego County Judge James Hyde, which permitted inhabitants to vote upon the question. The vote for incorporation as a village was passed by a vote of 66 for and 16 against. Oneonta was finally on the map.
When the village was first incorporated it was bounded on the east by the Walling farm (present day Walling Avenue and Otsego Street), on the west by the Scramling farm (present day Watkins Avenue and Church Street).
At the first election under the new charter of 1848, held December 2, 1848, only 28 persons voted. The following officers were elected: trustees: Eliakim R. Ford, William Fritts, Hezekiah Watkins, and Samuel Cooke; assessors: John Cutshaw, Elisha Shepherd, and Ephraim Hodge; clerk: William Olin; treasurer: Andrew Shaw, and Collis Huntington, street commissioner. Eliakim R. Ford was named president of the village by the trustees and reelected to that post in the next four yearly held elections.
Some of the first Village of Oneonta By-laws included:
Trustees are to visit all homes during the year and inspect for fire hazards. Owners must make necessary changes as ordered within one week or be fined $3.00 and the cost of the work.
For driving or leading animals on sidewalks. Fine 25 cents
No swine, horses, cattle, sheep, colts, or calves allowed at large. Fine $1.00
No horse racing or trotting matches on any street. Fine $5.00
Burning of rubbish on any street only from sunrise to 12 noon. Any other time fine of $1.00
On public days or occasions no person may leave carriages or wagons or other obstructions in the streets. Fine $3.00
No fireworks may be used without permission of majority of trustees. No "fireballs" allowed. Fine 50 cents.
No person shall exhibit "any natural or artificial curiosity or caravans of animals " or shows or exhibitions without permission of trustees. Fine $15.00
Fine for owners of land allowing them- $5.00. No trustee may accept a free ticket to any show.
Eliakim (E.R.) Ford was "one of Oneonta's leading citizens and one of the best known and most respected men in the valley," writes historian Ed Moore.
Mr. Ford was one of Oneonta's most prominent civic leaders and general store owners, as well as being a "gentlemen farmer," owning nearly a quarter of the land that made up Oneonta in the mid-1800's. His general store was located near Main and Dietz streets, while his majestic stone house occupied the site of the present Wilber Bank.
E.R.'s concern for the residents, his honesty and integrity, excellent business skills, and his endless enthusiasm for promoting Oneonta's growth and prosperity made him a natural leader for becoming Oneonta's first village president.
The "center of activity" during those early days of this area was the McDonald Tavern, located near the corner of Main and River streets. The tavern was owned and operated by the James McDonald family- one of the founding families of Oneonta. In 1817, this area's first post office was located at the tavern.
The tavern/inn's ownership would later pass on to John M. Watkins and his wife, Julia McDonald Watkins- daughter of Oneonta pioneer James McDonald. John Watkins would serve as supervisor of the Town of Oneonta- before Oneonta became a village- and would be a leading force behind the movement to incorporate Oneonta as a village.
Carleton Emmons Watkins, John and Julia's son, did not follow in his father's footsteps, but journeyed to California during the gold rush of 1849, to find his fame as the world's premier 19th-century landscape photographer of the early west.
Carelton Watkins would be only one of many native Oneonta's sons to find their fame and fortune in California. The prominent list also included Collis P. Huntington, Henry Huntington, and William Angel, just to name a few who would honor the name of Oneonta across America.
As Oneonta grew and prospered, so did its reputation, as stated in the feature article on Oneonta in "Grips Valley Gazette" out of Albany in December of 1896.
Professor Brander Matthews, in the article entitled "On the Poetry of Place Names," quotes Robert Louis Stevenson as follows:
When I heard that stream over which we passed was called the Susquehanna, the beauty of the name seemed part and parcel of the beauty of the land. As when Adam with divine fitness named the creatures, so this word Susquehanna was at once accepted by the fancy. That was the name, as no other could be, for that shining river and desirable valley.
Professor Matthews continues in his own words:
It is eminently appropriate that the fair city which sits by the "shining river," and is the pride of the "desirable valley" should also have a distinctive American name, Oneonta. When I climb our surrounding hills and look across, through autumn haze, or the clear air of spring, to the opposite mountain wall, I am glad that the city which nestles below me has a name which rhymes with the flow of brooks and the rustle of the wind among the leaves.
Oneonta is its name!