GOHS Announces Next Big Project, the Hometown Heroes Program
This spring, the Greater Oneonta Historical Society (GOHS), in partnership with the City of Oneonta, will launch the Hometown Heroes Program. The Hometown Heroes Program is designed to honor a specific category of individuals who have made a significant contribution to their community and/or country. This cycle, GOHS will honor its hometown veterans. 
Each of our hometown veterans will be honored with a custom 18×48" banner, to be sponsored and paid for by anyone who would like to honor a veteran. A sponsor may be a business, a friend or family member of a veteran (or a group of friends or family members), or the veteran themselves. The honoree does not need to be a native of Oneonta.
Each banner will include a picture of the veteran, their name and branch of service, time served, and any medals received. The banners will hang on street posts throughout Oneonta's downtown, Neahwa Park, and/or various streets throughout the city of Oneonta. The banners will be on display from Memorial Day (May 29) 2023 through Veterans Day (November 11) 2023, at which time the banner will be taken down and returned to the sponsor. Sponsors will have the opportunity to renew the display of their banner each year for a small fee. 
The number of banners and their locations are available on a first-come, first-served basis, so don't miss your opportunity to register for your veteran's banner! Banner sponsors can purchase and register for their banners by mail (PO Box 814, Oneonta NY 13820), email (directormm@oneontahistory.org), or at GOHS' Oneonta History Center (183 Main Street) during business hours (Wednesdays – Fridays, 12pm-4pm and Saturdays 10am-4pm). The cost of each banner is $150, and includes the banner, hanging brackets, banner proof, installation, and de-installation. The deadline for banner registration is Friday, March 24, 2023. Honoree profile forms and registration forms are attached here. 
The Hometown Heroes Banners are a wonderful way to foster our local community's appreciation and respect for Oneonta's many veterans and heroes, past and present. For further inquiries, contact GOHS' Executive Director Marcela Micucci at 607-432-0960 or directormm@oneontahistory.org.  An administrative fee from the Hometown Heroes Program will go toward the Greater Oneonta Historical Society and may be tax deductible.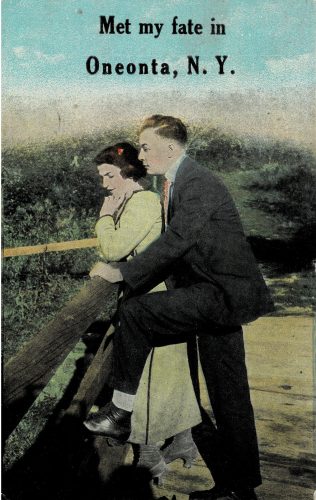 GOHS' 16th Postcard, Book, & Ephemera Show & Sale
GOHS' 16th Postcard, Book, & Ephemera Show & Sale will be held on Saturday April 15 at Elm Park Methodist Church, 401 Chestnut Street. Admission is free. Prospective vendors should contact Bob Brzozowski at Brzozowski@OneontaHistory.org or (607) 431-9509 for vendor information. The fundraising event was founded by John Carney in 2005 and continues this year in his memory.