Naming Opportunities at GOHS
A range of naming opportunities are still available for individuals, families, organizations, and corporations for the Greater Oneonta Historical Society's new gallery space on our first floor at the History Center, as well as for our second and third floors. These naming opportunities enable donors and corporate sponsors to pay tribute to the community and their relationship with GOHS, or to honor and recognize someone special in their lives.
See some of the remaining opportunities below.
Permanent Exhibition Areas
Small Community, Big Ideas: Greater Oneonta consists of five different parts, each with its own unique history, images, and interactive activities. Each of these parts of the exhibition has the potential to be named.
Take a look at the exhibitions below.
Part 1: A Landscape In Transition
This section explores the area's early geography, natural resources, and early Native Americans and European settlers.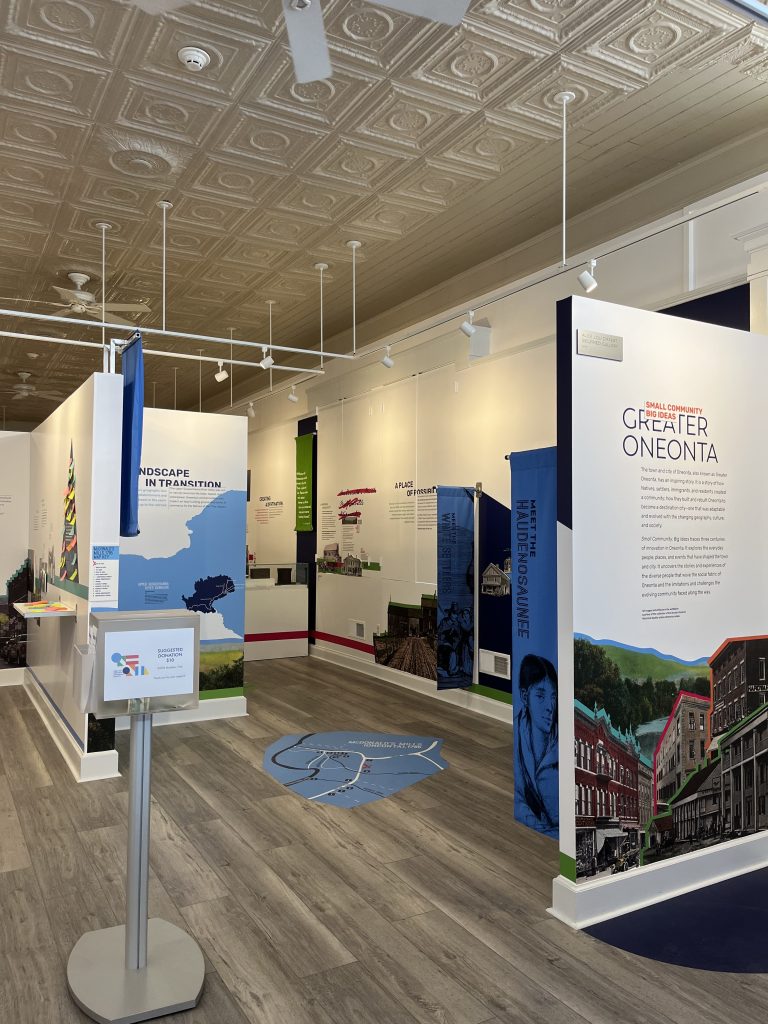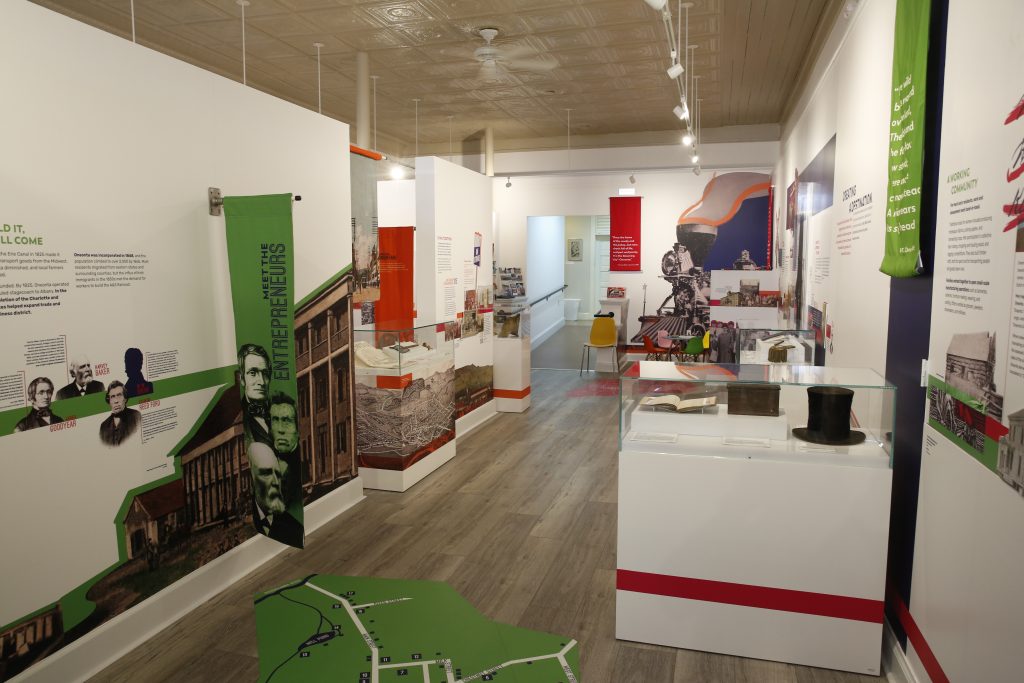 Part 2: A Place of Possibility
This section surveys the many changes the village of Oneonta underwent in the early decades of the 1800s and the development of a community. 
Part 3: Creating a Destination
This section emphasizes Oneonta's distinction as a destination town with the coming of the railroad in the 1860s.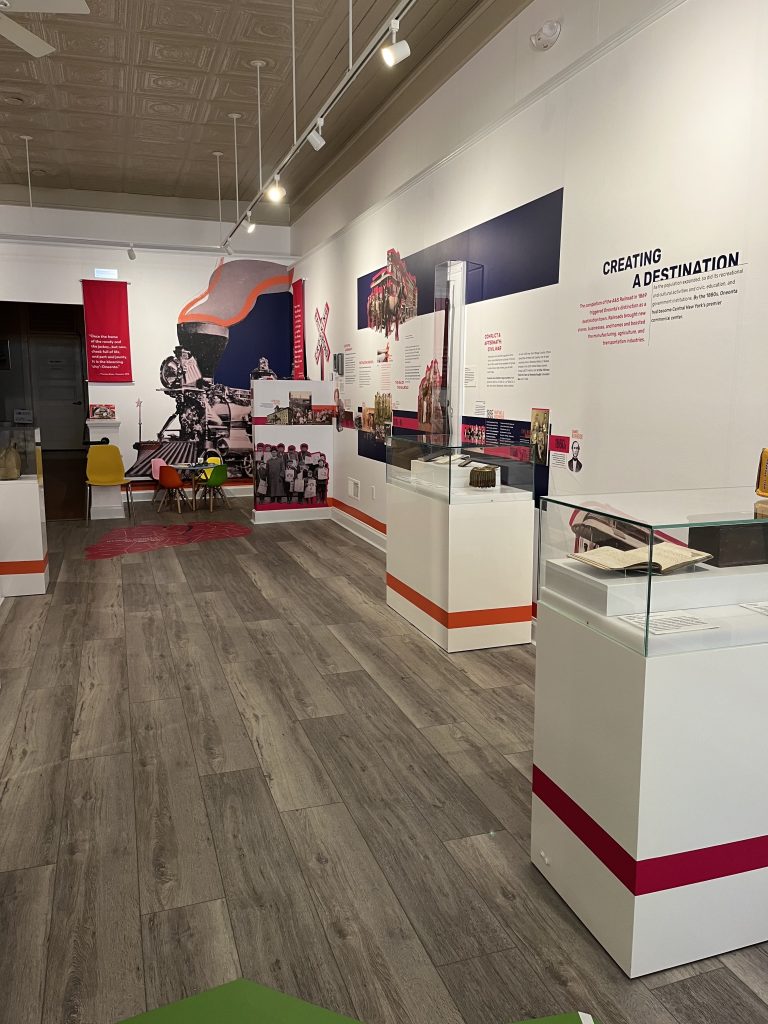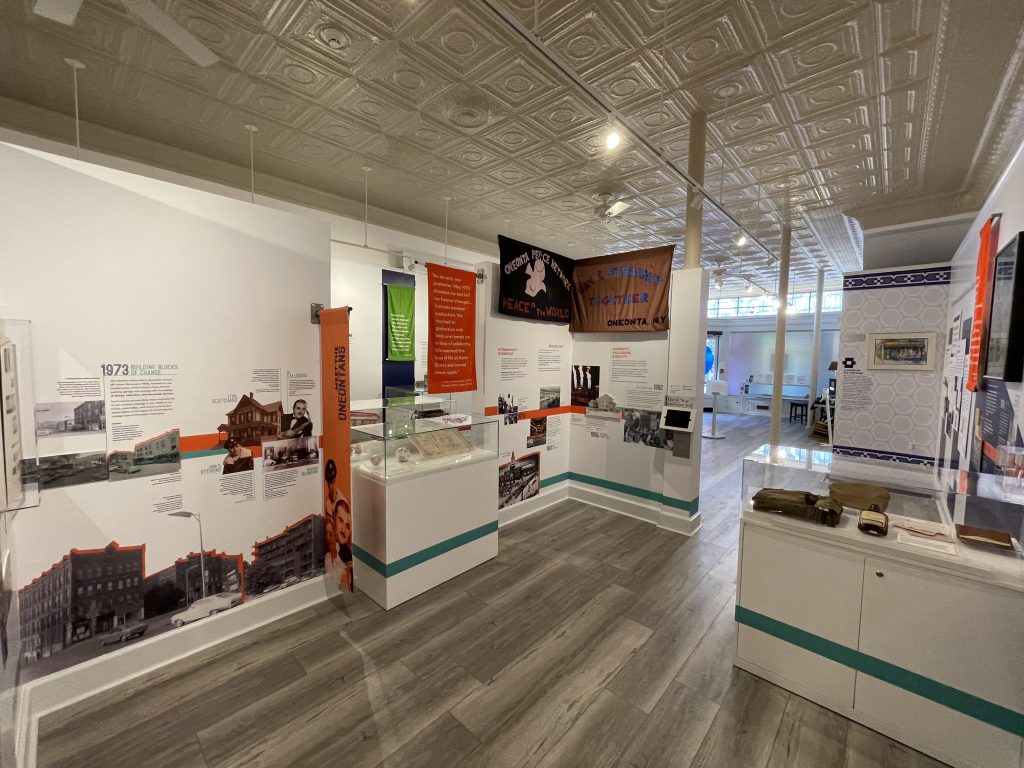 Part 4: Remodeling a City
This section sheds light on the various ways Oneonta reinvented itself in the middle decades of the twentieth century to keep with social and economic transformations.
This section encourages visitors to question what might be the next "big idea" for Oneonta? It includes an interactive activity for visitors to contribute their own ideas for Oneonta's future.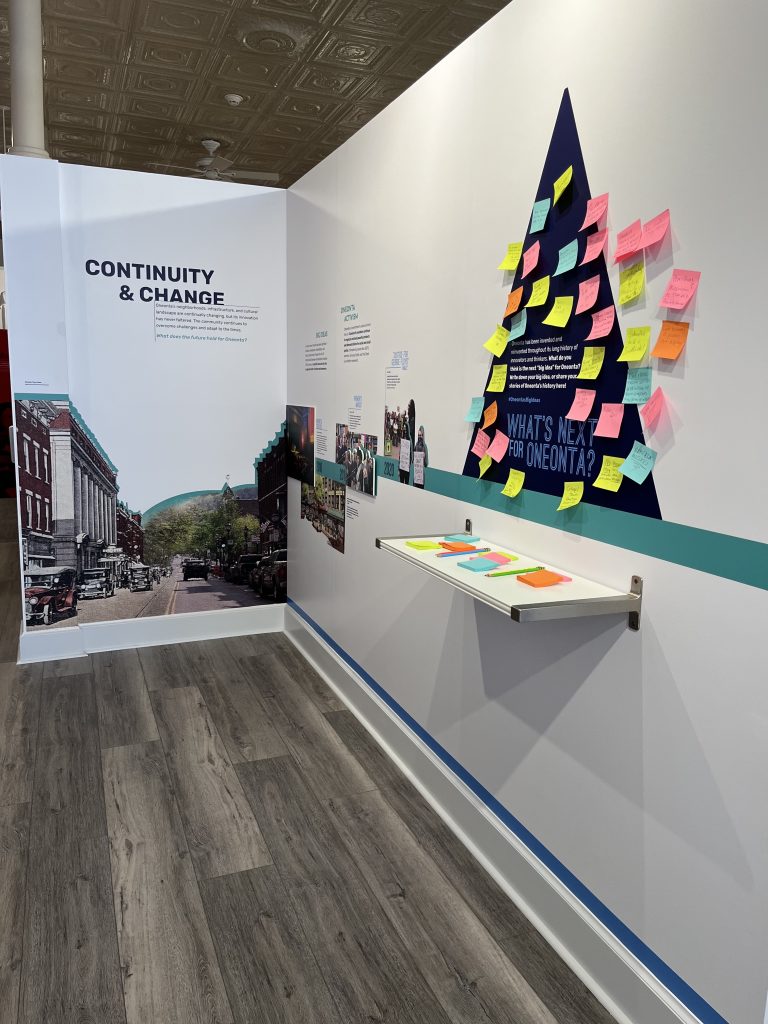 In addition to the gallery and exhibition spaces, GOHS offers naming opportunities for our newly designed gift and retail shop on the first floor. The shop includes locally made goods, GOHS and exhibition-branded items, and a unique variety of local history books, souvenirs, apparel, postcards, jewelry, toys, and gifts that can only be found at the History Center.
Additional naming opportunities on the second and third floors at the History Center are also possible. These rooms will be named in perpetuity in honor of or in memory of an individual, organization, business, or individual or family.
The Ballroom, Third Floor — $75,000
Third Floor Gallery — $25,000
Collections Rooms (2), Second Floor — $10,000/room
Donations may be made in cash, check, credit card, PayPal (above), and/or stock donation to GOHS' Wells Fargo account. For more information, contact GOHS Executive Director Marcela Micucci (directormm@oneontahistory.org). Thank you for considering this gift which will contribute to the community for generations to come.
GOHS thanks our donors Harold C. Buckingham, Jr., for his donation to the Buckingham Window in loving memory of his wife, Joyce Chesebro Buckingham (OHS Class 1950) and his mother, Dorothy Wilson Coats Buckingham (OHS Class of 1920) and to the Laskaris Window in memory of Jessie Smith Dewar with profound gratitude for her assistance with his education; the SUNY Oneonta Alumni window, sponsored by the SUNY Oneonta Alumni Association in recognition of SUNY Oneonta's commitment to working with community partners to enhance the quality of life in the City of Oneonta and our region; the family of Jack Bresee for a second-floor room in his memory; Irene Curley for a second- floor room in memory of John Kevin Curley; the family of Marc Bresee for a second-floor room in his honor; and Janice & Bruce Downie, and to Wendell Brown and Celeste Brown Thomas for a second-floor room in honor of their parents Foster L. & Rita S. Brown.
Thank you to Alpine Engraving for engraving the naming plaques found throughout the first and second floors.