GOHS Online Annual Benefit Auction
November 12, 2021 @ 12:00 pm

-

November 21, 2021 @ 5:00 pm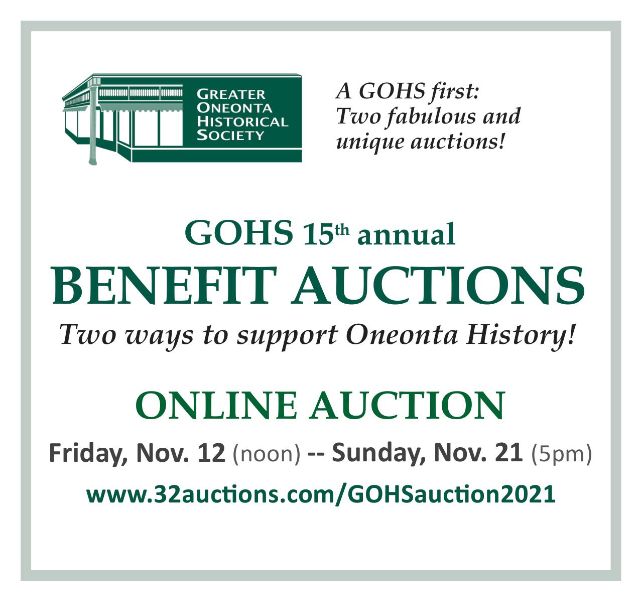 In addition to the live auction, GOHS will be offering an online auction again this year. This auction will begin online one week prior to the live auction, at noon on Friday, November 12, and will remain open through 5pm on Sunday, November 21. Each auction will offer different objects and experiences, so be sure to attend both! There will be plenty of attractive items in both the live and online auctions.
The auctions' success depends on interesting items to bid on, as well as plenty of bidders! Keep GOHS in mind if you are downsizing, cleaning out the attic or garage, or know someone who is! Quality items for auction include jewelry, arts and crafts, antiques, gift cards, and wines and spirits. Experiences like event tickets, dinners, fieldtrips, and overnight stays also bring spirited bidding.
If you have donations or need more information, please contact the History Center at 607-432-0960, or reach out to Marcela Micucci (directormm@oneontahistory.org); Bob Brzozowski (Brzozowski@oneontahistory.org); or Loraine Tyler (loraine.tyler@oneonta.edu). And of course, if you are interested in getting involved or volunteering for the auction, let Marcela know!